17 out of 22 players suspended for hazing
.
Parents of hockey players on the Dalhousie University women's hockey team are trying to raise money as they consider mounting a legal challenge to get their daughters back on the ice.
Earlier this month, 17 of the 22 players on the team were suspended for the season after an investigation into a September team party.
With only five players remaining -- all first-year players -- it was impossible to put together a team and the Dalhousie Tigers women's hockey team was forced to forfeit the rest of the season.
The players have been benched, but some of their parents aren't going down without a fight.
"There is the possibility of a legal process. We believe that a court would say to Dalhousie that the process is flawed," said parent Sue Charlesworth.
Earlier this week the team released a statement disputing the university's version of the hazing incident.
'
Hockey tradition
'
The said rookies on the team were sent out on a scavenger hunt for things like sardines, whip cream and then made to eat them.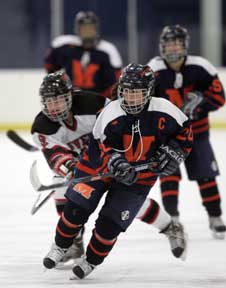 They were also told to dress up in odd clothing, play drinking games and answer questions about them, but player Laura Brooks said it wasn't out of line.
Dalhousie said it doesn't see it that way and despite pleas from players and parents the season remains cancelled.
The team is forging ahead with parents raising money online to hire a legal team.
Charlesworth said a court case could cost around $20,000.
"There are people who feel strongly and I think are willing to help out. Parents have gotten together to consider [it]. This is something we are seriously contemplating," she said.
The players are meeting with the university president on Monday.
Charlesworth says the team will consider legal action if the meeting doesn't go well.
A spokeswoman representing the team declined to comment on the fundraising.
By
CBC News
Source:
The CBC News