President Obama on Saturday paid tribute to the nation's law-enforcement personnel, applauding them for their courage and summoning lawmakers to take steps to reduce gun violence.
At a White House ceremony for the 2013 National Association of Police Organizations TOP COPS awards, Obama said, If Top Cops can risk their lives to do their jobs, the rest of us should just be able to summon some tiny fraction of courage and the same sense of responsibility.
"Certainly, that applies for those of us responsible for supporting law enforcement and first responders here in Washington," Obama continued. He spoke about giving law-enforcement agencies the resources they need to fight crime and added, "We also need to take some common-sense steps that protect our rights, protect our children, protect officers in the line of duty by making it harder for dangerous criminals to get their hands on lethal weapons."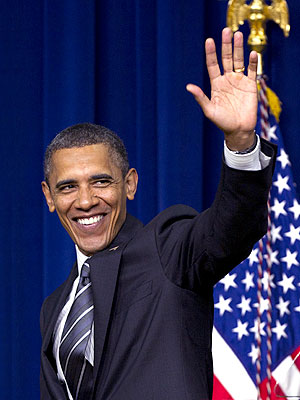 That was a reference to the president's gun-control agenda, which includes universal background checks -- an idea that polling shows nine in 10 Americans support -- and which failed to pass in the Senate last month. Law-enforcement leaders have been some of the White House's leading allies in the push for stricter gun laws.
In his speech Saturday, delivered in the East Room of the White House, Obama singled out one of the award recipients, Brian Murphy, a lieutenant who was shot multiple times while responding to a deadly mass shooting at a Sikh temple in Oak Creek, Wis., last August.
"He did not consider his own safety," Obama said of Murphy. "He fought back until help arrived and ordered his fellow officers, who are here today, to protect the safety of the Americans worshiping inside -- even though he was lying there bleeding from 12 bullet wounds. When he was asked how he did it, he said, 'That's just the way we're made.' "
Obama also credited the heroic actions of Ivan Marcano, a police detective in New York City and another award recipient. One night, while off-duty and on a date, Marcano intervened when he saw two muggers attacking a cab driver in the Bronx.
"He got out of his girlfriend's car to stop them and was shot point blank in the chest, a bullet inches from his heart," Obama said. He added that as Marcano's girlfriend drove him to the hospital, they coincidentally ran into the shooter's getaway car.
"So what does Detective Marcano do?" the president asked. "He jumps out of the car -- he's been shot -- keeps pressure on his chest with his left hand, holding a service weapon with his right, he runs after the suspects. He took one of them down, which led to the capture of the others. He wasn't on the clock when any of this happened. This was his date night. It's unbelievable."
By Philip Rucker
Source:
The Washington Post