The marijuana dealers have a Facebook page. They also have a website promoting their business, complete with a logo of a cute, green bud with googly eyes.
The family that ran the Grass Rootz medical marijuana store in Lexington wasn't trying to hide the business. The store has operated largely in the open, because Washington relaxed its rules for medical marijuana use 15 years ago and voters legalized recreational pot use last year.
Nevertheless, on Feb. 28 the Longview Street Crimes Unit raided the West Side Highway home where Grass Rootz's owners say they sold pot only to patients with medical marijuana certificates. Five people involved with the business now face felony marijuana charges.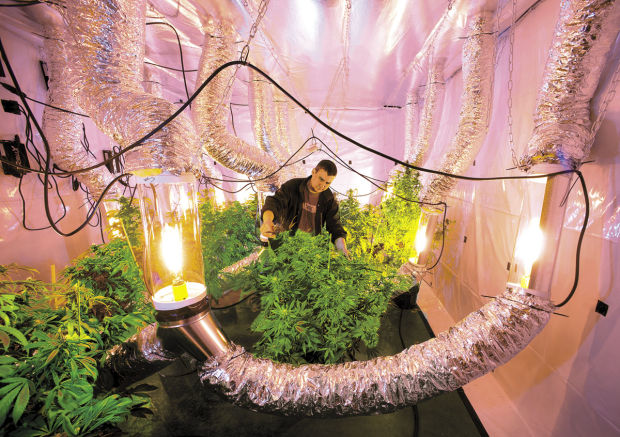 Medical marijuana plants at his family's
Grass Rootz was among two Cowlitz County medical marijuana providers raided by the Street Crimes Unit in the past six months. In late December, Naturally Yours, a West Longview provider operated by Kellie Opsal, 37, of Toutle also was shut down. Opsal faces multiple counts of dealing pot as well as operating a drug house and leading organized crime.
The raids have cut off supplies to an estimated 2,500 medical marijuana patients who use the drug to cope with a variety of cancers, seizures, multiple sclerosis and AIDS, the business owners said in recent interviews. The arrests also have raised questions about how local prosecutors and law enforcement officials are responding to the changes in the state's marijuana laws, which have become murky since voters passed Intiative 502.
Even while marijuana laws have become ambiguous, Douglas Hiatt, a Seattle attorney and medical marijuana activist representing both businesses, says the two busts simply don't make sense.
"I just don't know what the hell's going on down there," Hiatt said in a recent interview. "This is the stupidest case I've ever seen."
The owners of Grass Rootz and Naturally Yours say they were operating well within medical marijuana laws. But even if that claim doesn't bear out, the activities they're accused of may be legal by the time their cases go to trial. (Much of the state's new recreational marijuana regulations are expected to take effect later this year.)
In fact, the two Cowlitz County medical marijuana cases are headed for trial as a Seattle entrepreneur is planning to grow a 16-acre cannabis crop in Pacific County, which would be sold for recreational use. That and other enterprises will need to qualify for a state license, but state officials said this week that those licenses probably won't be issued until December.
Cowlitz County Prosecutor Sue Baur declined to discuss how her office will handle the cases of pot dealers and medical marijuana providers following passage of I-502. And prosecutor's office spokeswoman Michelle Shaffer said the office also will not discuss the Grass Rootz and Naturally Yours cases while they are pending.
The Street Crimes unit used confidential informants to buy marijuana from Grass Rootz, according to police reports. During the Feb. 28 raid, police found 25 plants growing in a barn and seized more than a pound of cultivated marijuana, $4,366 in cash, drug packaging materials, scales and a 9 mm pistol, according to the reports.
Drug agents arrested Grass Rootz's founders and operators: 50-year-old Kirk Kightlinger; his girlfriend, Mandy F. Henderson, 52; and his sons, Aaron Kightlinger, 30, and Steffen Kightlinger, 25. All were charged with dealing marijuana.
The officers left behind Grass Rootz's growing pot plants after the bust. A police official explained later that Grass Rootz is legally allowed to keep the plants under medical marijuana laws.
Because the Kightlinger home is near a school bus stop and the family owned a gun — which Kirk Kightlinger said was unrelated to the marijuana business and was kept in the home for protection — Grass Rootz's proprietors face years in prison if convicted. The case is back in court on Monday.
Kirk Kightlinger, who uses medical marijuana himself to treat a back injury, said he has invited prosecutors and police to visit him anytime and see what he's doing. The invitation was never accepted, he said. He added that he and his employees have always insisted that each patient — even regulars — present a valid medical marijuana card and state-issued identification when picking up medication.
"We have several patients ready to testify that we've turned them away because they left their paperwork at home," Kirk Kightinger said.
In an interview Thursday, Longview police Captain Robert Huhta, who oversees the drug unit, declined to say whether the informants who bought pot from Grass Rootz or Naturally Yours presented valid medical marijuana prescriptions. He said both businesses were violating medical marijuana rules, but he declined to say exactly how.
"We received repeated complaints regarding these businesses," Huhta said. "We had people calling us and saying we were blatantly allowing people to violate the law."
Huhta said targeting methamphetamine and heroin traffickers is a much higher priority for the Street Crimes Unit than arresting dealers or buyers of marijuana. But he said the passage of I-502 hasn't prompted his agents to stop making marijuana busts.
"I have not given advice or direction to our Street Crimes Unit to ignore all marijuana offenses," Huhta said. "The distribution of marijuana is still illegal at this time."
Still, Huhta acknowledged that the recent busts may result in new case law which could guide law enforcement and prosecutors as the state's marijuana laws change.
"Over time, as we've seen, certain laws are going to evolve. ... It may go to where there will be civil penalties down the road, but as it currently stands that's not the case."
Medical marijuana dispensaries aren't legal in Washington, but "collective gardens" are. It may be semantics, but that's how both Grass Rootz and Naturally Yours say they stayed within the law. Patients contributed money. If they couldn't pay, some offered time or labor.
Hiatt, the attorney, speaks passionately about his years battling on behalf of medical pot advocates. His sentences often are punctuated by four-letter words as he explains what he sees as the senseless targeting of people who insist marijuana helps their ailments in ways other medications can't.
He said he is mystified that local police and prosecutors are cracking down on his clients, calling it a "backlash" by officials who have long been accustomed to illegal marijuana and are unsure how to proceed now that it's become largely legal.
"I don't know what you're accomplishing here. Are you doing anything for the community?" Hiatt asked. "You guys have huge fish to fry down there. You've got violent crime. You've got heroin."
Hiatt said the state's new recreational marijuana law may offer his clients legal cover. But those same clients opposed I-502, he said, fearing new DUI laws, high taxes and poorly-worded regulations will cut patients off from pot.
Grass Rootz has a sophisticated growing operation in its barn that includes equipment for controlling temperature and light conditions. The equipment cost thousands of dollars, and Kirk Kightlinger insisted his family isn't getting rich off the enterprise. The electric bill alone is $1,000 a month, he said.
The real goal of the business, said Henderson, was giving marijuana patients a clean, safe place to buy marijuana. She said a small percentage of clients are probably abusing the system, but the vast majority are sick, in pain and benefit from marijuana use.
Kightlinger and Henderson have driven hundreds of miles to deliver a small amount of pot to a sick person, said Hiatt. That sort of generosity is common in the medical pot community, which Hiatt says offers a bond among patients and their providers similar to any other support group for sick people.
"People get involved in medical marijuana, and they get evangelical about it," Hiatt said. "It starts helping people out. They can see it. They can see people getting better."
The Naturally Yours and Grass Rootz operators say many of their customers sought to replace highly-addictive opiate painkillers. One of them was Gary Wallace, 62, of Kalama, who began using medical marijuana two years ago to treat a litany of injuries from his days as a logger and construction worker.
"It eliminates pain for me," he said.
Wallace said he has used the drug recreationally and was caught with a pound of it in the 1970s. But he said he functions far better on pot than the prescription painkiller Oxycontin, which left him unable even to remember what he'd watched on TV.
"Pot makes you high, but ... you're physically able to interact with people," he said.
Wallace said he expected to find a bunch of "high school aged pot heads" when he first visited the Naturally Yours collective garden in West Longview. Instead, he found retired men and women, many of them with injuries like his from demanding, physical labor.
"I was totally surprised. I was like, 'These guys are my age,'" he said. "It's indicative of any blue-collar town. Lumber mills, trucking. It's all heavy-duty stuff. It tears your body up."
Since the Street Crimes Unit shut down Naturally Yours in December, Wallace has had trouble finding a safe place to get marijuana. He said he grew his own for a while.
"(Police busts) force people like me to go look for another source, back on the street," Wallace said.
Opsal, the owner of Naturally Yours, said her boyfriend got her interested in the medical marijuana business several years ago. She is slight and shy, sometimes hiding her eyes behind her long, brown bangs. Hiatt, her attorney, scoffs at the idea that she's been charged with "leading organized crime."
Her store, located in the 2200 block of 46th Avenue, offered pot, edible marijuana products and topical creams.
Opsal said she was shocked to see police approaching her West Longview store because she'd hired a legal consultant to make sure the operation was within the law before she started it.
Police reports say drug agents used informants to buy from Opsal on six occasions between May and September of last year. During the Dec. 21 raid, police seized $16,000 cash and 16 pounds of pot from the business, as well as packaging materials, a digital scale and food and drink products containing THC, the active psychotropic ingredient in cannabis. Police also took "membership paperwork for hundreds of customers," according to the report.
In an interview this month, Opsal said she has never sold marijuana to anyone who didn't present a medical marijuana card and has often called doctors to make sure a patient's paperwork is legitimate.
"It broke my heart when I found out the informant was an actual patient," she said. "I've had them over to my house for dinner, all of them."
Still, she said, even if she knew she would be arrested again, she would open up the business and keep distributing pot to patients.
"I can't let these people down," Opsal said. "If we hadn't been there, where would they go? They would meet somebody on the side of the road, feeling it's dirty and wrong. We made sure they felt comfortable and safe."
By
Tony Lystra
, The Daily News
Source:
The Daily News